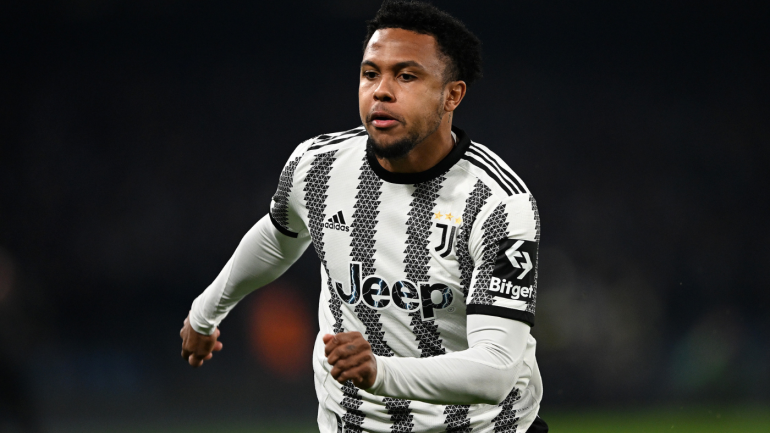 Getty Images
What's better than a cup of coffee and the latest soccer transfer news? Join in as CBS Sports provides the latest updates from around the world and what they mean to your favorite teams. AC Milan entered the race to sign Italian striker Nicolò Zaniolo from AS Roma, while Inter Milan are not only considering the possibility to lose Milan Skriniar as free agent this summer, but also in this current window. Leeds United are also interested to sign American International midfielder Weston McKennie from Juventus. 
AC Milan open talks for Zaniolo 
AC Milan have entered the race to sign striker Nicolo Zaniolo from AS Roma this winter. The Italian striker wants to make a move during this transfer window and explicitly asked his current club to leave before the end of the transfer window, as coach Jose Mourinho explained after winning 2-0 last Sunday against Spezia. "He has asked to leave the club — but it's not sure that it's going to happen. Current proposals are not enough. We only need a good proposal to let Zaniolo leave, and we've not received it. My feeling is that in the end, he will stay." 
AS Roma are asking around €35-40 million to let him leave, while the Rossoneri offered around €18 million (a loan with a buy option included). The Giallorossi are asking for a permanent deal already this winter but the clubs that have approached the Italian club (Tottenham and AC Milan) are not offering what they want as of now. However, the situation can evolve in the coming week and Zaniolo can definitely leave AS Roma this winter.
Milan Skriniar to PSG as a free agent?
The future of Milan Skriniar might be in France. The Inter Milan defender is expected to leave the Nerazzurri after he decided not to extend his deal that is expiring this summer, as it was also confirmed by his agent on Monday night, while Skriniar was sent off in the first half before his teammates lost 1-0 to Empoli at San Siro and probably put an end to their Scudetto dreams. "About a month later, before Christmas, I communicated to Inter the decision not to accept their offer, a decision that was reaffirmed at the beginning of January, before the Supercoppa final," his agent told Telenord. PSG are the frontrunners to sign him as a free agent in the summer, and rumors suggest that the player already has an agreement in principle with the French club for the contract. However, Skriniar might join PSG already this winter but in that case Inter Milan need to find a replacement first. Fiorentina's Nikola Milenkovic and Atalanta's Merih Demiral are two of the options to replace him in case he leaves before the summer. 
Leeds United want McKennie
Leeds United are interested in signing American international Weston McKennie from Juventus, as it was reported by Italian journalist Gianluca Di Marzio. Jesse Marsch's side is currently looking for a new midfielder and McKennie is in the Juventus' transfer list this winter. Leeds have opened talks with both club and agent to figure out if he can be the right opportunity for this transfer window and he's now one of the names scouted that can join Leeds before the end of the month alongside others such as Azzedine Ounahi. 
The best of the rest