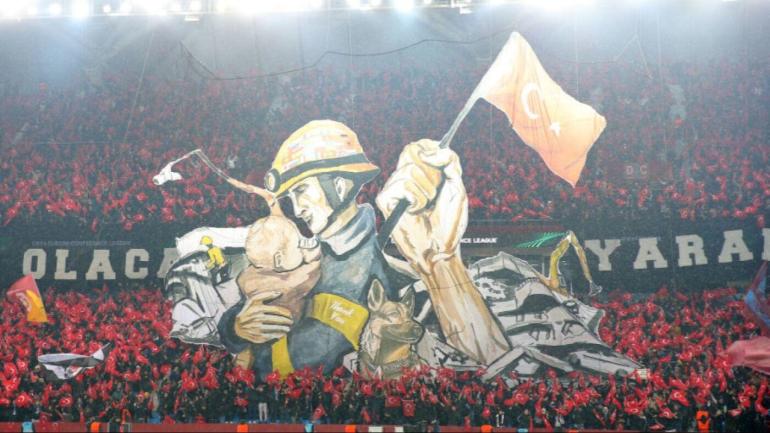 Getty Images
A series of massive earthquakes have devastated Syria and Turkey. Soccer has since been an afterthought, but on Thursday, Turkish club Trabzonspor hosted Swiss club Basel in a Europa Conference League match that would give all the proceeds to victims of the earthquake. In that same game, rescue workers were honored with a touching tifo. 
An image of a rescue worker carrying a child drew attention at Akyazi Arena. Also visible in the touching tribute was Proteo, a Mexican German Shepherd rescue dog that died while assisting in the disaster response efforts.
An earthquake of 7.8 magnitude struck early on Feb. 6 in the regions of southern Turkey and northern Syria. The original one was devastating, but the second earthquake of 7.6 magnitude caused even more damage hours later. The death toll has surpassed 41,000.
The money from Thursday's ticket sales went to relief funds, and there was even the option of buying virtual tickets to make a donation. The players and officials wore black armbands on their right arms. 
Both teams walked out of the tunnel at the same time. A banner in Turkish that said "Yaninizdayiz" — which translates to "we are with you" — was on the field in front of the players. 
There was a minute of silence ahead of the game, and both squads agreed to not celebrate any goals scored as it would seem inappropriate to do so given the tragic circumstances. Trabzonspor won the game, 1-0, with a goal by Jens Stryger Larsen in the 65th minute.
Another Turkish team, Hatayspor, withdrew from the Turkish Super Lig as one of their players, winger Christian Atsu, went missing following the earthquake and has still not been found. The Super Lig as a whole is currently postponed. 
"We are still searching for Christian," Atsu's agent Nana Sechere told CNN this week. "We have asked AFAD (The Disaster and Emergency Management Presidency) to place his picture in all local and national hospitals."