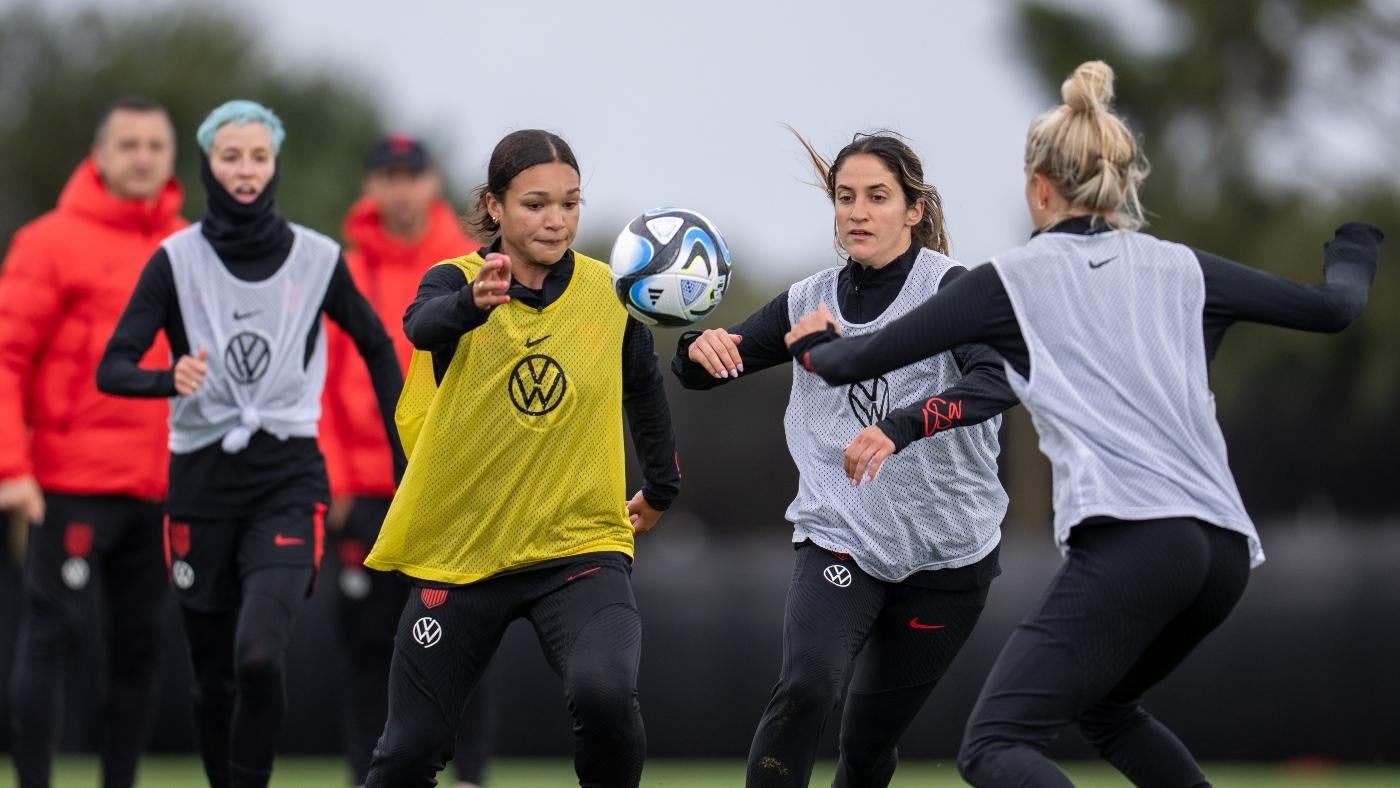 The 2023 FIFA Women's World Cup in Australia and New Zealand is just days away and the United States women's national team is officially in the Southern Hemisphere. They traveled to New Zealand immediately following their send-off match, a 2-0 victory against Wales. The team has a camp ahead of group matches in New Zealand where the entirety of their group stage will take place.
The reigning champs, looking to win their third World Cup in a row, were drawn into Group E alongside the Netherlands, Portugal, and Vietnam. The first match will be against Vietnam on July 21 at Eden Park in Auckland. Let's look at the three teams ahead of the group stage, and who will give the USWNT during the World Cup group stage.
Vietnam
The Golden Star Women Warriors will make their World Cup debut when they take on the USWNT on July 21 at Eden Park in Auckland. They earned a place in the tournament when they won a round-robin playoff match during the 2022 AFC Women's Asian Cup. They have some mixed form heading into the group stage. They're champions of the Southeast Asian Games but recently lost 2-1 to Germany's B-team, and they were on the losing end of a massive 9-0 blowout against Spain. 
Nguyen Thi Thanh Nha is Vietnam's young star to watch. In between the lines, they're a team that can execute their game plan and frustrate teams that have trouble unlocking organized shapes. They've never played against the United States, setting up a historic first meeting between the two sides. The 21-year-old forward scored the lone goal in Vietnam's warm-up friendly against Germany and will need to be another option in the attack alongside Huynh Nhu, the country's all-time leading goalscorer with 67 goals in 72 games.
ROSTER
Goalkeepers: Tran Thi Kim Thanh (Ho Chi Minh), Khong Thi Hang (Than KSVN), Dao Thi Kieu Oanh (Hanoi)
Defenders: Chuong Thi Kieu (Ho Chi Minh), Tran Thi Thu Thao (Ho Chi Minh), Tran Thi Thu (Ho Chi Minh), Hoang Thi Loan (Hanoi), Tran Thi Hai Linh (Hanoi), Le Thi Diem My (Than KSVN), Luong Thi Thu Thuong (Than KSVN), Nguyen Thi My Anh (Thai Nguyen), Tran Thi Thuy Nga (Thai Nguyen)
Midfielders: Nguyen Thi Tuyet Dung (Ha Nam), Nguyen Thi Bich Thuy (Ho Chi Minh), Tran Thi Thuy Trang (Ho Chi Minh), Ngan Thi Van Su (Hanoi), Nguyen Thi Thanh Nha (Hanoi), Thai Thi Thao (Hanoi), Duong Thi Van (Than KSVN)
Forwards: Pham Hai Yen (Hanoi), Vu Thi Hoa (Ho Chi Minh), Nguyen Thi Thuy Hang (Than KSVN), Huynh Nhu (Lank Vilaverdense)
Netherlands
The Netherlands are led by manager Andries Jonker and they are the team that is likely to give the USWNT their toughest battle in the group. It's a rematch of the 2019 World Cup final, where the U.S. won their fourth World Cup when they defeated the Netherlands 2-0 in France. They'll be without star striker Vivianne Miedema due to injury and are a different team since that 2019 final, but they have strong pieces to give the USWNT a difficult time on the pitch.
They've had a short build-up to the tournament with Jonker and will miss Miedema but have 26-year-old Jill Roord as an attacking threat. She racked up seven goals during qualifying and will be relied upon in Miedema's absence. The Oranje will also have Daniëlle van de Donk in the midfield to help battle for possession and generate offense or disrupt opposing attacks. 
ROSTER
Goalkeepers: Daphne van Domselaar (Twente), Lize Kop (Ajax), Jacintha Weimar (Feyenoord)
Defenders: Stefanie van der Gragt (Inter Milan), Dominique Janssen (VfL Wolfsburg), Merel van Dongen (Atletico Madrid), Aniek Nouwen (AC Milan), Lynn Wilms (VfL Wolfsburg), Kerstin Casparij (Manchester City), Caitlin Dijkstra (Twente)
Midfielders: Sherida Spitse (Ajax), Danielle van de Donk (Lyon), Jackie Groenen (PSG), Jill Roord (Wolfsburg), Victoria Pelova (Arsenal), Damaris Egurrola (Lyon), Jill Baijings (Bayer Leverkusen), Wieke Kaptein (Twente)
Forwards: Lieke Martens (PSG), Lineth Beerensteyn (Juventus), Renate Jansen (Twente), Esmee Brugts (PSV), Katja Snoeijs (Everton)
Portugal
Portugal is one of eight debutants at the 2023 World Cup. The Iberian side had a longer road to the tournament after clinching one of the final qualification spots during the inter-confederation playoffs. They are no strangers to "do or die" situations through qualifications, and their scheduled meeting against the USWNT on August 1 is the final matchday of the group and may present win-or-go-home scenarios.
The two sides aren't unfamiliar with each other, but the USWNT have dominated the overall record against Portugal, with 10 wins in 10 matches between them. Portugal recently held England to a scoreless draw and defeated Ukraine 2-0 during friendlies in July, and they will hope that the recent form follows them into the group stage. 
Francisca 'Kika' Nazareth is Portugal's young star heading into the tournament. The 20-year-old Benfica attacking midfielder is a huge asset in the attack with her technical dribble and ability to create space to shoot.
ROSTER
Goalkeepers: Rute Costa (SL Benfica), Ines Pereira (Servette FC), Patricia Morais (SC Braga)
Defenders: Ana Seica (SL Benfica), Carole (SL Benfica), Catarina Amado (SL Benfica), Diana Gomes (Sevilla FC), Joana Marchao (Parma Calcio 2022), Lucia Alves (SL Benfica), Silvia Rebelo (SL Benfica)
Midfielders: Ana Rute (SC Braga), Andreia Norton (SL Benfica), Andreia Jacinto (Real Sociedad), Dolores Silva (SC Braga), Fatima Pinto (Deportivo Alaves), Kika Nazareth (SL Benfica), Tatiana Pinto (Levante UD)
Forwards: Ana Borges (Sporting CP), Ana Capeta (Sporting CP), Carolina Mendes (SC Braga), Diana Silva (Sporting CP), Jessica Silva (SL Benfica), Telma Encarnacao (CS Maritimo)



Summarize this content to 300 words The 2023 FIFA Women's World Cup in Australia and New Zealand is just days away and the United States women's national team is officially in the Southern Hemisphere. They traveled to New Zealand immediately following their send-off match, a 2-0 victory against Wales. The team has a camp ahead of group matches in New Zealand where the entirety of their group stage will take place.The reigning champs, looking to win their third World Cup in a row, were drawn into Group E alongside the Netherlands, Portugal, and Vietnam. The first match will be against Vietnam on July 21 at Eden Park in Auckland. Let's look at the three teams ahead of the group stage, and who will give the USWNT during the World Cup group stage.VietnamThe Golden Star Women Warriors will make their World Cup debut when they take on the USWNT on July 21 at Eden Park in Auckland. They earned a place in the tournament when they won a round-robin playoff match during the 2022 AFC Women's Asian Cup. They have some mixed form heading into the group stage. They're champions of the Southeast Asian Games but recently lost 2-1 to Germany's B-team, and they were on the losing end of a massive 9-0 blowout against Spain. Nguyen Thi Thanh Nha is Vietnam's young star to watch. In between the lines, they're a team that can execute their game plan and frustrate teams that have trouble unlocking organized shapes. They've never played against the United States, setting up a historic first meeting between the two sides. The 21-year-old forward scored the lone goal in Vietnam's warm-up friendly against Germany and will need to be another option in the attack alongside Huynh Nhu, the country's all-time leading goalscorer with 67 goals in 72 games. ROSTERGoalkeepers: Tran Thi Kim Thanh (Ho Chi Minh), Khong Thi Hang (Than KSVN), Dao Thi Kieu Oanh (Hanoi)Defenders: Chuong Thi Kieu (Ho Chi Minh), Tran Thi Thu Thao (Ho Chi Minh), Tran Thi Thu (Ho Chi Minh), Hoang Thi Loan (Hanoi), Tran Thi Hai Linh (Hanoi), Le Thi Diem My (Than KSVN), Luong Thi Thu Thuong (Than KSVN), Nguyen Thi My Anh (Thai Nguyen), Tran Thi Thuy Nga (Thai Nguyen)Midfielders: Nguyen Thi Tuyet Dung (Ha Nam), Nguyen Thi Bich Thuy (Ho Chi Minh), Tran Thi Thuy Trang (Ho Chi Minh), Ngan Thi Van Su (Hanoi), Nguyen Thi Thanh Nha (Hanoi), Thai Thi Thao (Hanoi), Duong Thi Van (Than KSVN) Forwards: Pham Hai Yen (Hanoi), Vu Thi Hoa (Ho Chi Minh), Nguyen Thi Thuy Hang (Than KSVN), Huynh Nhu (Lank Vilaverdense)NetherlandsThe Netherlands are led by manager Andries Jonker and they are the team that is likely to give the USWNT their toughest battle in the group. It's a rematch of the 2019 World Cup final, where the U.S. won their fourth World Cup when they defeated the Netherlands 2-0 in France. They'll be without star striker Vivianne Miedema due to injury and are a different team since that 2019 final, but they have strong pieces to give the USWNT a difficult time on the pitch.They've had a short build-up to the tournament with Jonker and will miss Miedema but have 26-year-old Jill Roord as an attacking threat. She racked up seven goals during qualifying and will be relied upon in Miedema's absence. The Oranje will also have Daniëlle van de Donk in the midfield to help battle for possession and generate offense or disrupt opposing attacks.  ROSTERGoalkeepers: Daphne van Domselaar (Twente), Lize Kop (Ajax), Jacintha Weimar (Feyenoord)Defenders: Stefanie van der Gragt (Inter Milan), Dominique Janssen (VfL Wolfsburg), Merel van Dongen (Atletico Madrid), Aniek Nouwen (AC Milan), Lynn Wilms (VfL Wolfsburg), Kerstin Casparij (Manchester City), Caitlin Dijkstra (Twente)Midfielders: Sherida Spitse (Ajax), Danielle van de Donk (Lyon), Jackie Groenen (PSG), Jill Roord (Wolfsburg), Victoria Pelova (Arsenal), Damaris Egurrola (Lyon), Jill Baijings (Bayer Leverkusen), Wieke Kaptein (Twente) Forwards: Lieke Martens (PSG), Lineth Beerensteyn (Juventus), Renate Jansen (Twente), Esmee Brugts (PSV), Katja Snoeijs (Everton)PortugalPortugal is one of eight debutants at the 2023 World Cup. The Iberian side had a longer road to the tournament after clinching one of the final qualification spots during the inter-confederation playoffs. They are no strangers to "do or die" situations through qualifications, and their scheduled meeting against the USWNT on August 1 is the final matchday of the group and may present win-or-go-home scenarios.The two sides aren't unfamiliar with each other, but the USWNT have dominated the overall record against Portugal, with 10 wins in 10 matches between them. Portugal recently held England to a scoreless draw and defeated Ukraine 2-0 during friendlies in July, and they will hope that the recent form follows them into the group stage.  Francisca 'Kika' Nazareth is Portugal's young star heading into the tournament. The 20-year-old Benfica attacking midfielder is a huge asset in the attack with her technical dribble and ability to create space to shoot.ROSTERGoalkeepers: Rute Costa (SL Benfica), Ines Pereira (Servette FC), Patricia Morais (SC Braga)Defenders: Ana Seica (SL Benfica), Carole (SL Benfica), Catarina Amado (SL Benfica), Diana Gomes (Sevilla FC), Joana Marchao (Parma Calcio 2022), Lucia Alves (SL Benfica), Silvia Rebelo (SL Benfica) Midfielders: Ana Rute (SC Braga), Andreia Norton (SL Benfica), Andreia Jacinto (Real Sociedad), Dolores Silva (SC Braga), Fatima Pinto (Deportivo Alaves), Kika Nazareth (SL Benfica), Tatiana Pinto (Levante UD)Forwards: Ana Borges (Sporting CP), Ana Capeta (Sporting CP), Carolina Mendes (SC Braga), Diana Silva (Sporting CP), Jessica Silva (SL Benfica), Telma Encarnacao (CS Maritimo) require.config({"baseUrl":"https:\/\/sportsfly.cbsistatic.com\/fly-0508\/bundles\/sportsmediajs\/js-build","config":{"version":{"fly\/components\/accordion":"1.0″,"fly\/components\/alert":"1.0″,"fly\/components\/base":"1.0″,"fly\/components\/carousel":"1.0″,"fly\/components\/dropdown":"1.0″,"fly\/components\/fixate":"1.0″,"fly\/components\/form-validate":"1.0″,"fly\/components\/image-gallery":"1.0″,"fly\/components\/iframe-messenger":"1.0″,"fly\/components\/load-more":"1.0″,"fly\/components\/load-more-article":"1.0″,"fly\/components\/load-more-scroll":"1.0″,"fly\/components\/loading":"1.0″,"fly\/components\/modal":"1.0″,"fly\/components\/modal-iframe":"1.0″,"fly\/components\/network-bar":"1.0″,"fly\/components\/poll":"1.0″,"fly\/components\/search-player":"1.0″,"fly\/components\/social-button":"1.0″,"fly\/components\/social-counts":"1.0″,"fly\/components\/social-links":"1.0″,"fly\/components\/tabs":"1.0″,"fly\/components\/video":"1.0″,"fly\/libs\/easy-xdm":"2.4.17.1″,"fly\/libs\/jquery.cookie":"1.2″,"fly\/libs\/jquery.throttle-debounce":"1.1″,"fly\/libs\/jquery.widget":"1.9.2″,"fly\/libs\/omniture.s-code":"1.0″,"fly\/utils\/jquery-mobile-init":"1.0″,"fly\/libs\/jquery.mobile":"1.3.2″,"fly\/libs\/backbone":"1.0.0″,"fly\/libs\/underscore":"1.5.1″,"fly\/libs\/jquery.easing":"1.3″,"fly\/managers\/ad":"2.0″,"fly\/managers\/components":"1.0″,"fly\/managers\/cookie":"1.0″,"fly\/managers\/debug":"1.0″,"fly\/managers\/geo":"1.0″,"fly\/managers\/gpt":"4.3″,"fly\/managers\/history":"2.0″,"fly\/managers\/madison":"1.0″,"fly\/managers\/social-authentication":"1.0″,"fly\/utils\/data-prefix":"1.0″,"fly\/utils\/data-selector":"1.0″,"fly\/utils\/function-natives":"1.0″,"fly\/utils\/guid":"1.0″,"fly\/utils\/log":"1.0″,"fly\/utils\/object-helper":"1.0″,"fly\/utils\/string-helper":"1.0″,"fly\/utils\/string-vars":"1.0″,"fly\/utils\/url-helper":"1.0″,"libs\/jshashtable":"2.1″,"libs\/select2″:"3.5.1″,"libs\/jsonp":"2.4.0″,"libs\/jquery\/mobile":"1.4.5″,"libs\/modernizr.custom":"2.6.2″,"libs\/velocity":"1.2.2″,"libs\/dataTables":"1.10.6″,"libs\/dataTables.fixedColumns":"3.0.4″,"libs\/dataTables.fixedHeader":"2.1.2″,"libs\/dateformat":"1.0.3″,"libs\/waypoints\/infinite":"3.1.1″,"libs\/waypoints\/inview":"3.1.1″,"libs\/waypoints\/jquery.waypoints":"3.1.1″,"libs\/waypoints\/sticky":"3.1.1″,"libs\/jquery\/dotdotdot":"1.6.1″,"libs\/jquery\/flexslider":"2.1″,"libs\/jquery\/lazyload":"1.9.3″,"libs\/jquery\/maskedinput":"1.3.1″,"libs\/jquery\/marquee":"1.3.1″,"libs\/jquery\/numberformatter":"1.2.3″,"libs\/jquery\/placeholder":"0.2.4″,"libs\/jquery\/scrollbar":"0.1.6″,"libs\/jquery\/tablesorter":"2.0.5″,"libs\/jquery\/touchswipe":"1.6.18″,"libs\/jquery\/ui\/jquery.ui.core":"1.11.4″,"libs\/jquery\/ui\/jquery.ui.draggable":"1.11.4″,"libs\/jquery\/ui\/jquery.ui.mouse":"1.11.4″,"libs\/jquery\/ui\/jquery.ui.position":"1.11.4″,"libs\/jquery\/ui\/jquery.ui.slider":"1.11.4″,"libs\/jquery\/ui\/jquery.ui.sortable":"1.11.4″,"libs\/jquery\/ui\/jquery.ui.touch-punch":"0.2.3″,"libs\/jquery\/ui\/jquery.ui.autocomplete":"1.11.4″,"libs\/jquery\/ui\/jquery.ui.accordion":"1.11.4″,"libs\/jquery\/ui\/jquery.ui.tabs":"1.11.4″,"libs\/jquery\/ui\/jquery.ui.menu":"1.11.4″,"libs\/jquery\/ui\/jquery.ui.dialog":"1.11.4″,"libs\/jquery\/ui\/jquery.ui.resizable":"1.11.4″,"libs\/jquery\/ui\/jquery.ui.button":"1.11.4″,"libs\/jquery\/ui\/jquery.ui.tooltip":"1.11.4″,"libs\/jquery\/ui\/jquery.ui.effects":"1.11.4″,"libs\/jquery\/ui\/jquery.ui.datepicker":"1.11.4″}},"shim":{"liveconnection\/managers\/connection":{"deps":["liveconnection\/libs\/sockjs-0.3.4″]},"liveconnection\/libs\/sockjs-0.3.4":{"exports":"SockJS"},"libs\/setValueFromArray":{"exports":"set"},"libs\/getValueFromArray":{"exports":"get"},"fly\/libs\/jquery.mobile-1.3.2″:["version!fly\/utils\/jquery-mobile-init"],"libs\/backbone.marionette":{"deps":["jquery","version!fly\/libs\/underscore","version!fly\/libs\/backbone"],"exports":"Marionette"},"fly\/libs\/underscore-1.5.1″:{"exports":"_"},"fly\/libs\/backbone-1.0.0″:{"deps":["version!fly\/libs\/underscore","jquery"],"exports":"Backbone"},"libs\/jquery\/ui\/jquery.ui.tabs-1.11.4″:["jquery","version!libs\/jquery\/ui\/jquery.ui.core","version!fly\/libs\/jquery.widget"],"libs\/jquery\/flexslider-2.1″:["jquery"],"libs\/dataTables.fixedColumns-3.0.4″:["jquery","version!libs\/dataTables"],"libs\/dataTables.fixedHeader-2.1.2″:["jquery","version!libs\/dataTables"],"https:\/\/sports.cbsimg.net\/js\/CBSi\/app\/VideoPlayer\/AdobePass-min.js":["https:\/\/sports.cbsimg.net\/js\/CBSi\/util\/Utils-min.js"]},"map":{"*":{"adobe-pass":"https:\/\/sports.cbsimg.net\/js\/CBSi\/app\/VideoPlayer\/AdobePass-min.js","facebook":"https:\/\/connect.facebook.net\/en_US\/sdk.js","facebook-debug":"https:\/\/connect.facebook.net\/en_US\/all\/debug.js","google":"https:\/\/apis.google.com\/js\/plusone.js","google-csa":"https:\/\/www.google.com\/adsense\/search\/async-ads.js","google-javascript-api":"https:\/\/www.google.com\/jsapi","google-client-api":"https:\/\/accounts.google.com\/gsi\/client","gpt":"https:\/\/securepubads.g.doubleclick.net\/tag\/js\/gpt.js","hlsjs":"https:\/\/cdnjs.cloudflare.com\/ajax\/libs\/hls.js\/1.0.7\/hls.js","recaptcha":"https:\/\/www.google.com\/recaptcha\/api.js?onload=loadRecaptcha&render=explicit","recaptcha_ajax":"https:\/\/www.google.com\/recaptcha\/api\/js\/recaptcha_ajax.js","supreme-golf":"https:\/\/sgapps-staging.supremegolf.com\/search\/assets\/js\/bundle.js","taboola":"https:\/\/cdn.taboola.com\/libtrc\/cbsinteractive-cbssports\/loader.js","twitter":"https:\/\/platform.twitter.com\/widgets.js","video-avia":"https:\/\/vidtech.cbsinteractive.com\/avia-js\/2.12.0\/player\/avia.min.js","video-avia-ui":"https:\/\/vidtech.cbsinteractive.com\/avia-js\/2.12.0\/plugins\/ui\/avia.ui.min.js","video-avia-gam":"https:\/\/vidtech.cbsinteractive.com\/avia-js\/2.12.0\/plugins\/gam\/avia.gam.min.js","video-avia-hls":"https:\/\/vidtech.cbsinteractive.com\/avia-js\/2.12.0\/plugins\/hls\/avia.hls.min.js","video-avia-playlist":"https:\/\/vidtech.cbsinteractive.com\/avia-js\/2.12.0\/plugins\/playlist\/avia.playlist.min.js","video-ima3″:"https:\/\/imasdk.googleapis.com\/js\/sdkloader\/ima3.js","video-ima3-dai":"https:\/\/imasdk.googleapis.com\/js\/sdkloader\/ima3_dai.js","video-utils":"https:\/\/sports.cbsimg.net\/js\/CBSi\/util\/Utils-min.js","video-vast-tracking":"https:\/\/vidtech.cbsinteractive.com\/sb55\/vast-js\/vtg-vast-client.js"}},"waitSeconds":300});

Source link