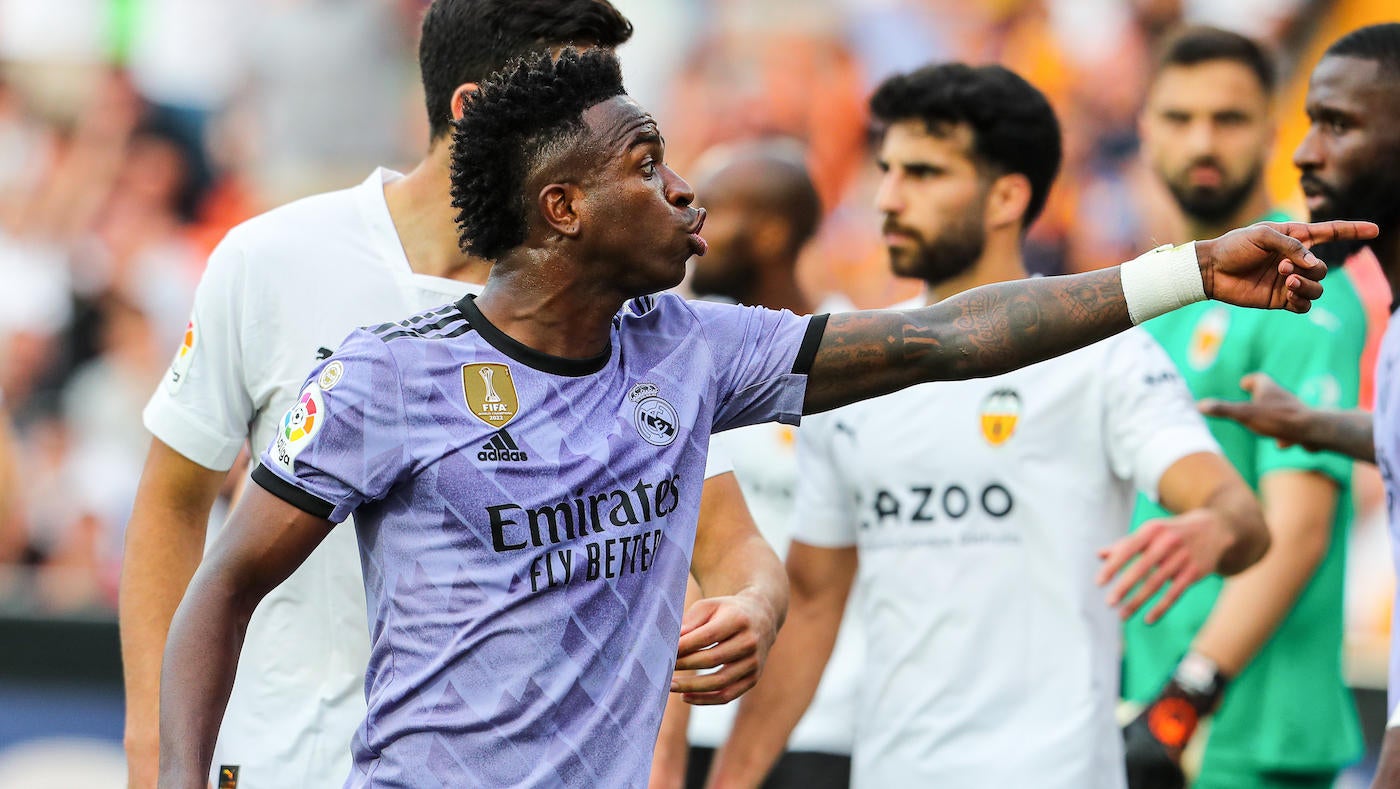 This weekend brought some highs and lows. We had Sebastian Haller's amazing comeback story from testicular cancer, finding the net twice for Borussia Dortmund to take an unlikely pole position in the Bundesliga table ahead of Bayern Munich. On the other, the racial abuse suffered by Real Madrid star Vinicius Junior from Valencia fans brought further shame to the game. I'm Mike Goodman — let's get to it with Monday's edition of the Golazo Starting XI newsletter.
New to the Golazo Starting XI newsletter? Get yourself the best deal in soccer and subscribe now to ensure you receive updates three times a week.
Please check the opt-in box to acknowledge that you would like to subscribe.
Thanks for signing up!

Keep an eye on your inbox.

Sorry!

There was an error processing your subscription.

---
???? Footy fix
All times U.S./Eastern.
Monday, May 22
???????? Serie A: Roma vs. Salernitana, 12:30 p.m. ➡️ CBS Sports Golazo Network
???????? Serie A: Empoli vs. Juventus, 2:45 p.m. ➡️ CBS Sports Golazo Network
???????????????????????????? EPL: Newcastle vs. Leicester City, 3 p.m. ➡️ USA Network
???????? Brasileirão: Cruzeiro vs. Cuiaba, 7 p.m. ➡️ CBS Sports Golazo Network
Tuesday, May 23
???? U-20 World Cup: USA vs. Fiji, 2 p.m. ➡️ FS2
???????? Open Cup: Inter Miami vs. Nashville SC, 7:30 p.m. ➡️ CBS Sports Golazo Network
???????? Open Cup: New York Red Bulls vs. FC Cincinnati, 7:30 p.m. ➡️ B/R Football
???????? Open Cup: Houston Dynamo vs. Minnesota United, 8:30 p.m. ➡️ B/R Football
???????? Open Cup: LAFC vs. LA Galaxy, 10:30 p.m. ➡️ CBS Sports Golazo Network
Vinicius Junior faces more racism in Spain

Once again Spanish football is making headlines for all the wrong reasons. Racism directed at Vinicius Junior has been an ongoing story for multiple seasons and it exploded into the headlines Sunday when a contentious match between Real and Valencia exploded as the clock wound down. Vini was once again racially abused by way of monkey chants and even pointed out specific fans who were the perpetrators. The match was briefly paused with threat that it would be suspended if the abuse continued over the stadium speakers. Then things got worse. A chaotic on-field scuffle led to Vini getting red carded.
And look, I'm going to be honest. You don't come to the Golazo Newsletter for deep takes about racism. And there are no deep takes about racism that I could possibly offer here that are going to solve anything. But it's unavoidable that in Spain, the relationship between Vini and fans of opposing teams has deteriorated and they continue to specifically use his race as the means by which to abuse him on the field. That's just the long and short of what's happening.
So what comes next? For starters, everyone up and down the Real Madrid organization are supporting Vini, including his manager Carlo Ancelotti, who spoke eloquently about the issue in his postgame press conference.
Ancelotti: "La Liga has a racism problem. They cannot yell 'monkey' at Vinicius. The game must be stopped. If an entire stadium is chanting 'monkey' then the game has to be stopped. I said this to the referee. We have been complaining about the same abuse all season long and still nothing has happened. It is now at the point where a coach must consider removing a player because the game will not be stopped. For this to happen, there is something wrong with the league."
As of Monday, Real Madrid plan to file a hate crime complaint. And from a practical standpoint, they have to do everything they can to back their winger. They want Vini at Madrid for years to come, but the abuse has risen to such a level it's hard to imagine that happening if something doesn't change. For now, CBS Sports transfer insider Fabrizio Romano says he's staying and on the verge of a brand new contract through 2027.
For Madrid, it's not only about doing the right thing, but cynically the smart thing. This is a team that's wooing Jude Bellingham. Last summer, they went hard after Kylian Mbappe — and perhaps they'll come back in a year when his deal is once again winding down. It actually hurts their ability to recruit the best players in the world if La Liga continues to be known for fans racially abusing its stars. But the other top clubs in the league are kidding themselves if they think the racism won't eventually come for their stars as well. Barcelona have been quite clear that they plan to be in the market for the best players year in and year out, no matter how they have to get creative with the books to do so. Of course, those targets — whoever they might be — are watching what's happening to Vini closely. And I'm sure it will weigh on their own decisions about whether they want to go to Spain.
For Real Madrid, they need to do right by Vini. But it shouldn't just be about Real Madrid. If La Liga can't protect its stars from getting abused in its stadiums, then the players will stop wanting to come to La Liga. That's where Spain is headed if something doesn't change.
For a further discussion of all this please don't miss the Morning Footy crew reacting to how La Liga has come up so very short in this moment.
Sponsored by Paramount+
One trophy down, three to go for Man City

It was an anticlimactic clincher for Manchester City. Arsenal collapsed on Saturday against Nottingham Forest, handing Pep Guardiola's side the trophy a day before their game against Chelsea. So, following a routine 1-0 win over Chelsea with nine changes to the XI made, they got the party started. Though, as James Benge wrote, this title truly felt inevitable.
Benge: "City end this season where they have ended every one of Guardiola's campaigns, as the best team in England. Twice that has not been reflected in the final table, but Understat's expected points metric has them as the Premier League's leading side on each occasion. In Year 1 of the new project, there was no goalkeeper capable of both building play from the back and not making a fortnightly error of baffling proportions; Chelsea marched to the top off the back of a season where they only played 43 games against Premier League opposition. In 2019-20, Liverpool caught fire from the off, City found themselves enduring a season almost as freakish as Leicester's title-winning campaign, the sort where they'd put up three-plus xG on Southampton and somehow lose."
And now let's get to some links:
???? Check out the sites and sounds from Man City's trophy celebration.
???? Kyler Walker pinpoints the moment that the season came together, writes Chuck Booth.
???? At the U-20 World Cup, the U.S. grabbed a late winner from Jonathan Gomez, who talked to Morning Footy about it.
???? PSG will have to wait another week to clinch the title, writes Jonathan Johnson.
???? The Serie A race for top four remains wide open after Inter's loss to Napoli, writes Francesco Porzio.
???? U.S. Open Cup returns this week with four matches on CBS Sports Golazo Network and Morning Footy Crew has brackets.
???? Also don't miss DeAndre Yedlin and Hany Mukhtar dropping in to talk all things Open Cup with Morning Footy.
???? In El Salvador, 12 fans were killed in a "stampede" during a crush at a playoff soccer match.
???? Don't look now, but Dortmund have their title chances in the Bundesliga in their own hands with one match to go.
???? Gotham go top of the NWSL with a 4-1 win over OL Reign with Lynn Williams leading the way
???? In Soccer We Trust: Victory (barely) for the USMNT U-20 side at the World Cup.
???? House of Champions: Check out the latest in the race to sign Declan Rice
???? Attacking Third: Check out your weekend recap as Gotham continue their climb
???? Best bets
All odds courtesy of Caesars Sportsbook and all times U.S./Eastern. SportsLine has you covered with this weekend's best bets.
Premier League: Newcastle vs. Leicester, Monday, 3 p.m. 
???? THE PICK: Newcastle (-285) — Newcastle are all but locked into the Champions League for next season, and Leicester are fighting for their Premier League lives. Sometimes that can lead to an upset, but not here. Newcastle play the kind of difficult to break down soccer that bottom half of the table teams hate to face. And Leicester have been in free fall for months.
Serie A: Empoli vs. Juventus, Monday, 2:45 p.m. 
???? THE PICK: Juventus (-140) — It's likely to be a big day in Turin, not because of this match, but because the Italian giants are once again facing a possible points deduction from the Italian soccer powers-that-be. That said, if this team has proven anything this year it's that they can continue to perform in the face of those distractions. As far as they know, they're still in the hunt for Champions League spots, so locking down three points here matters.