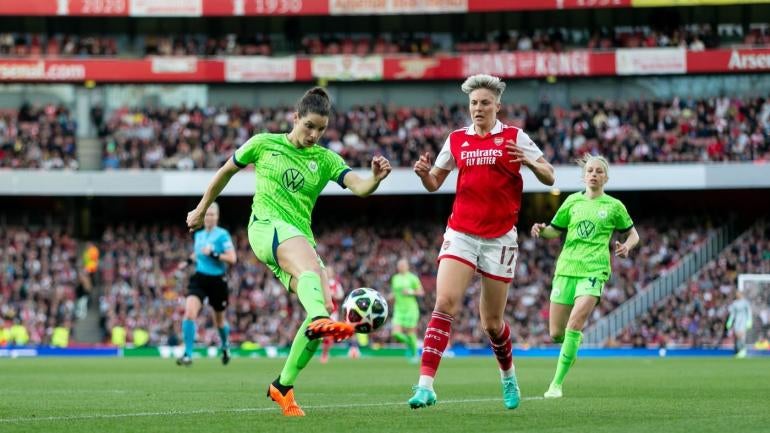 Getty Images
Wolfsburg and Arsenal needed extra time to determine a place in the UEFA Women's Champions League final, and it's the German side that will play for it all come next month. The two sides were level on aggregate ahead of the second leg at Emirates Stadium in London and played to another 2-2 scoreline in regulation. Pauline Bremer scored the game-winner during extra time to secure Wolfsburg's place in the Champions League final with a 3-2 win (5-4 on aggregate). Fans can watch the UWCL final on June 3 on CBS Sports Golazo Network.
 The two teams are no strangers to the biggest stage with Wolfsburg returning to a sixth final and Barcelona heading to their fourth title game in five years. 
Wolfsburg deservedly return to UWCL final
Wolfsburg knew it wasn't going to be an easy semifinal and Arsenal knew they were underdogs despite being the hosts in a soldout Emirates Stadium. The German side welcomed the return of veteran midfielder Alexandra Popp to the squad, while Arsenal were staring into a dark barrel of an endless injury. The home side got on the scoreboard via the 11th-minute goal by Stina Blackstienus, but Wolfsburg rallied multiple times to ensure their place in the final, beginning with an equalizer by Jill Roord just before halftime.
Popp provided just enough magic for the club in her return. Despite not being fully 100 percent in some phases of the game, she was strong in stretches. The 32-year-old put Wolfsburg ahead near the hour mark, getting her 150th goal for the club across all competitions.
The game had a dramatic finish as the Gunners equalized in the 75th minute, but Wolfsburg's deeper and healthier bench was the X-factor in such an even game. Bremer was subbed into the match to begin extra time and nabbed the game-winning goal with an easy back-post finish after a turnover at the back. 
With their dramatic win against Arsenal, Wolfsuburg are headed to their sixth UWCL final and they will have a chance to compete for their third Champions League title. 
Competition goes from tough to tougher
Wolfsburg will now face Barcelona in the final, and they are a team with lethal weapons across all lines. Winger Caroline Graham Hansen delivered game-deciding goals for the Blaugrana during their semifinal series against Chelsea FC, and the Norwegian international scored in the 2021 Champions League final when they last lifted the trophy.
They are arguably Europe's most in-form team, dominating league play and doing so without two-time Ballon D'or winner Alexia Putellas. The team have excelled through superior play from midfielder Aitana Bonmati, who has provided goal-scoring, play-making, and leadership inside the middle third.
Wolfsburg and Barcelona last faced each other in Champions League competition during the 2021-22 campaign. The Catalans eliminated the German side on a 5-3 aggregate over two semifinal legs.